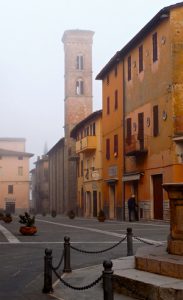 Deruta is one of the most famous, if not the most famous, of the many Italian ceramic centers. It sits on top of a hill that emerges from the middle of the Tiber Valley, just south of Perugia. Today, most of the ceramic studios are found in Deruta's more modern area, which is at the bottom of the hill. There were more than 300 such studios in the late 1990s. There are slightly fewer nowadays.
Deruta's history went back to Roman times and was always tied, for better or worse, to the political fortunes of its larger neighbor, Perugia. Since it was relatively small and less fortified, Deruta suffered greatly at the hands of Perugia's enemies and from the pillaging by Perugia's allies. It was devastated by several invasions, such as by the army of Perusian Captain Gentile Orsini in 1310, then by Papal troops in 1370. "Deruta" as a name is derived from the Latin word for destroyed, which is diruta.
The production of majolica in Deruta started in the 14th century with the introduction of tin glazes. It reached wondrous heights during the Renaissance. Most of the studios are family-owned, many are even run by three generations at one time. Classic patterns like Raffaellesco, Ricco, Arabesco, and Galletto are scrupulously drafted by artists who have studied with a master. Techniques and designs are carefully handed down from one generation to the next.
Beautiful ceramic treasures from Deruta can be found in major museums worldwide, from the Lehman Collection of the Metropolitan Museum in New York to the Bargello of Florence, Italy, and the J. Paul Getty Museum in Los Angeles, California. We work with three of the most talented artisans in Deruta, Ceramiche Sberna, Labor Deruta, and Maioliche Pia.