Bring Home a Piece of Italy
With Handcrafted Italian Ceramics
Bonechi Imports is a Direct Importer of Authentic Italian Pottery
Why Choose Bonechi Imports
We are more than happy to help you find the right Italian ceramics from the selection we have chosen as a family.
Ceramics By Use
Whether you are looking for a ceramic statement piece that was handcrafted in Tuscany or would like to create an authentically Italian tablescape with maiolica from Deruta, we offer a wide variety of high quality Italian Ceramics that we have imported directly from the artisans in Italy in to the United States.
Ceramics By Pattern
Some patterns date all the way back to the Renaissance. Some are more modern interpretations. We offer patterns from all over Italy with in a wide range of colors. There is something for everyone, from traditional to new, from lemons and other fruit to geometric patterns to birds and other animals.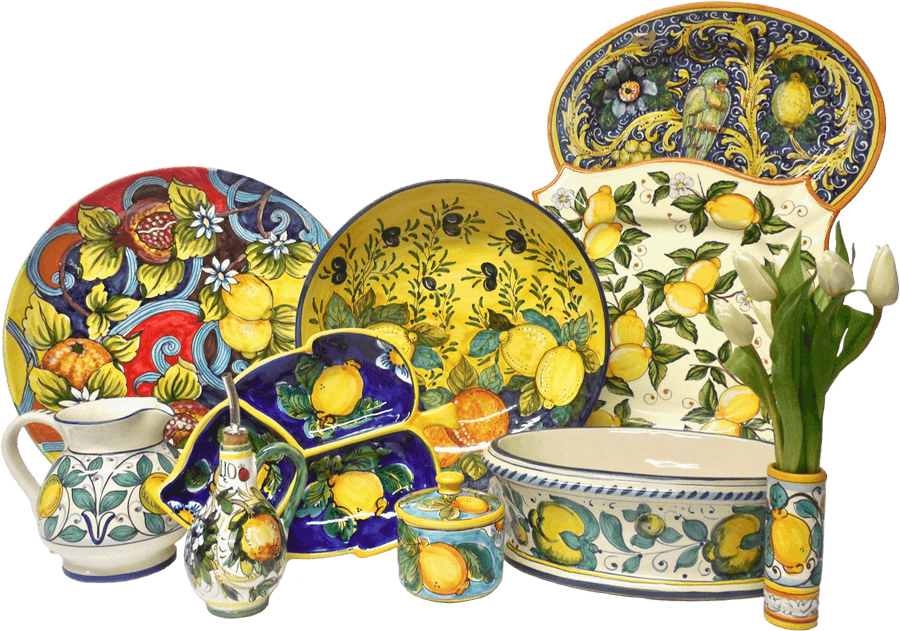 Ceramics By Town or Region
We work with artisans in the centers of Italian ceramics, from Deruta to Santo Stefano di Camastra. We include the region or town in which each piece was handcrafted or hand painted in its name because of the importance of the maiolica's origin.
Ceramics By Artisan
Much like Bonechi Imports is a family business, passing from generation to generation, such is the case with many of the artisans with whom we have been working for decades, some since the early 1980s. We are proud of the quality and variety of the maiolica we import from these highly skilled and talented artisans.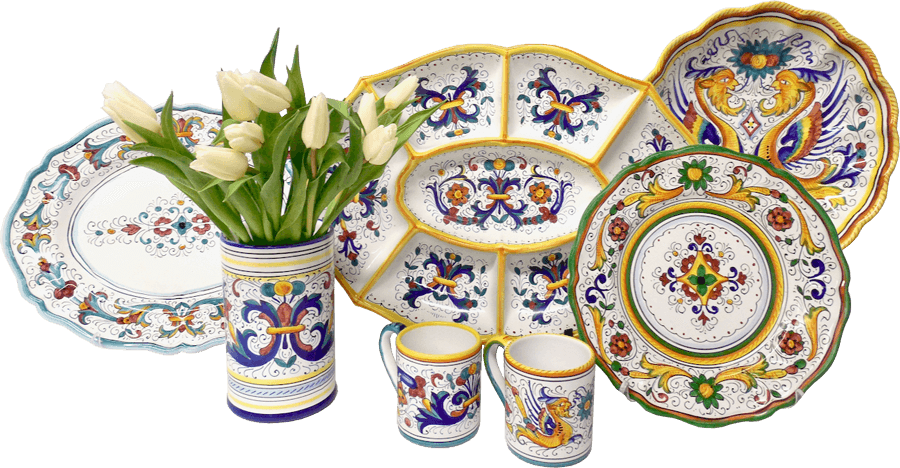 From Our Customers
As a small family business, every bit of positive feedback means the world to us!
I received my little cache pot in perfect condition. I appreciate your attention to detail. I own quite a few of these gems, but if I ever need more, I know where to find them!!!
I just received a biscotti jar and canister, with cherub angels, and they are beautiful. I was most impressed with the fast handling and expert packing. I would definitely buy again!
I can't thank you enough for this absolutely fantastic customer service!! You have beautiful things and it is so hard to find good Italian pottery in this country!
I did, indeed receive both the mug and the bowl. They are gorgeous! I've loved all three items I have ordered from you and was impressed with every aspect of the website, the ordering process, and the Customer Service. Thank you!
Thank you, Lilias! It looks to be a spectacular piece and I'm so fortunate to have found it through Bonechi Imports. I particularly like the background about the piece, it's meaning, and who created it. I also appreciate that I have learned of your wonderful company! Thank you again for your help and taking the time to educate me!
I received the vase today. Thank you so much for the outstanding service your company has performed. My dealings with Bonechi Imports have been excellent in every regard and I will have no hesitation in recommending you. Thank you
Thank you! I love my new pieces. They arrived amazingly fast. If I want any more items in the future I will order from you. Thank you so much.
Thank you so much for working with me on this, you folks are the best.
My olive oil bottle I ordered is stunning! I will be adding more pieces to my collection.
I was really very pleased with the way you handled my first order. The items you sent are perfect. They were packed with great care and came quickly, which I appreciate.
So nice to hear from you personally!
I just wanted to let you know that the cup is already treasured by the receiver. Thank you for your friendly, swift communication. I very much appreciate it.
My Raffaellesco bowl arrived from you yesterday. Grazie!
Thank you so much, Lilias! Appreciate you and Roberto so much. Thank you for the beautiful mugs all safely delivered! I am thrilled to have them (2 gifts and my replacement coffee mug) I started the new year with my brand new beautiful mug! I absolutely love the items.
I am looking forward to seeing more of your wonderful Italian ware in our home. It really is a pleasure to do business with Bonechi. Thank you.
Just a quick note to let you know my piece arrived safely. It adds a nice bit of color to my new neutral-colored kitchen. I was looking for a pretty piece to pay tribute to my Italian heritage. I previously purchased sugar and creamer in the same pattern and really love the pieces. Thank you for your quality pottery and quick service.
I hope you are well. My Raffaellesco mugs arrived today! I am so excited and will open them soon. Thank you for such wonderful service.
Thank you. As you know, I've ordered items before for my wife and we both love the pieces we have from you. Best wishes and I hope that all is well with you and your family. You run a lovely business.
Hello, I've ordered 3 times from your company in the past year or so. I've been so pleased with the quality of your merchandise and with your excellent service. Thank you for making shopping with you such a pleasure.
My friend loves her rooster pitcher! Thank you for sending it so quickly.
I just received my beautiful Trinacria. She is magnificent
Our package arrived today, well before I had anticipated it. There was a slight indentation in the side of the box that gave me pause. But when I opened it, I remembered your careful packing from previous orders and never gave it another thought. Your asking price suddenly came to mind when I held this object in my hand. I did realize it had been on sale and also recalled that my hesitation at ordering it earlier had been, admittedly, price-related. However, even the regular price, and certainly not the sale price came anywhere near what I should have been asked to pay for this Puglia treasure. To say it is a magnificent, Baroque, absolutely gorgeous representative of the finest tradition of Italian ceramic arts falls far short of what I thought I was buying and the great, wonderful gift had been sent. To say that photos cannot begin to capture its inherent beauty sounds hollow and pedantic. As I said at the start of this email, my order was simply not what I expected. It was so beyond what I even imagined. Thank you so much for enriching my life with this true piece of ceramic sculpture. It is not worth what I paid for it. For us, the true value is 50 times more. I just wanted to say thank you for making my home so lovely... And the other great thing, Lilias, is that so many people ask about them and I gladly share your company's name and contact information with them. I have these and so many other beautiful items from you in my house! Thank you so much
My package arrived late yesterday afternoon and everything arrived in perfect condition. I absolutely LOVE both pieces. I can't thank you enough for your thoughtfulness. Thank you again!
Thank you, Lilias, for making the transaction so smooth. Really enjoy your website. I poured over it for hours. What I bought will be a Christmas gift for my sister, a very picky person! So much fun!
I wanted to let you know that the replacement mug was delivered this afternoon and is in perfect shape! I can't thank you enough for your quick response and help with this. I am very thankful to have had such wonderful customer service! I look forward to recommending your company to others in the future :)
The new replacement bowl arrived today, safe and sound. It's beautiful. Thank you!
Awesome bowls. We will truly enjoy them. Thank you!
Grazie per la ceramiche! Tutto e arrivato in buona condizione. Mille grazie.
A true gentleman and wonderful business! Great selection of the wonderful regions in Italy!
Thank you! Love your website and have never seen this pottery before. So glad to find you!
Thank you for packing them so carefully. They are remarkably beautiful and seem to have a "presence". They have found their forever home with us. Grazie
The maiolica from your shop is truly delightful and exceptional. I'm happy we placed our order with you. The new plates arrived and they are absolutely gorgeous. They really brighten up the house and my wife loves them. Thank you for the lesson in maiolica, your pieces are exceptional.
The 2 mugs arrived and they are perfect. Thank you for your patience and diligence with seeing this to completion. It was a pleasure doing business with you-if only other businesses were this conscientious in this country , we'd all be better off!
Just a quick note to let you know this time the mug arrived safely. Thank you again and I look forward to shop with you again.
I was delighted to find your beautiful site. Thank you again.
Thank you so much! Great customer service!!!
Thank you so much for getting back to me so quickly. I'm so happy to hear that you are able to ship so quickly and about your policy. I am going to place the order in a few minutes. It is a beautiful piece.
The oil bottle and ornament came today, and I'm thrilled and over the moon. Each piece is beautiful, and you all did a nice job of packing the items too.
Looking forward to purchasing more! You have beautiful products.
Thank you so much for your quick reply. How refreshing to work with a business that responds so quickly and efficiently.
My package arrived perfectly. I love it and thanks for your help.
The pitcher arrived safe and sound -Thank you - it is as beautiful as anticipated !
I just spent a wonderful hour choosing gifts for my [Italian] relatives in America. Thank you so much for keeping me on the mailing list!!
The cachepot is perfect and looks wonderful in its new home. And the little box is so lovely, it's a gift I know my niece will love. I know I will be coming back to your lovely site in the future!
Thank you so much for everything. They arrived on Sunday. They are beautiful. Thank you so much for your help in this.
Thank you sooo much! These plates are fabulous!!
Thank you, Lilias and Roberto!
Everything was packed so well! Very nice pieces! Thank you so much for your prompt and professional handling of our order.
My friend absolutely loves the ornaments!!! You are always a pleasure to work with.
ho appena ricevuto il mio pacco devo dire grazie. adoro le mie due tazze!! i miei antenati sono siciliani e non posso dire quanto apprezzi la compagnia. sono così felice grazie per essere nel Maine e online portare anche l'Italia e la Sicilia in America grazie
Just wanted to say I love the mug. Thank you so much.
I received my biscotti jar today and it is beautiful!! My husband makes the best molasses cookies, which he did yesterday, and was so happy when I took them out of the ziplock and put them in the jar!! Thank you!!
Both the little lemon canister and the tile arrived yesterday in good condition. I am delighted with both. Thank you for all your assistance.
Thank you! The beautiful butter dish arrived a few days ago.
Many thanks for the service!
I just wanted you to know that my wife loves the new dish ware.
Thank you for your speedy delivery. They are perfect!
Thank you so very much, Lilias! I greatly appreciate the wonderful service
Thank you again for the wonderful customer service!!!!
Just wanted you to know the canister urn arrived today in perfect condition. We love it. Thank you.