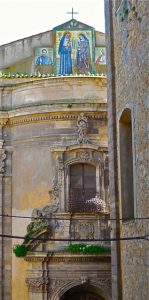 Caltagirone is an ancient town that extends across the top of three hills in the middle of Sicily. Archeological research conducted in the area uncovered remains of Pre-Hellenic and Hellenic pottery. This discovery is especially noteworthy in a particularly beautiful vase with red figures, now at the Museo Regionale Della Ceramica, depicting a ceramist using a wheel turned by an apprentice all under the protective watch of Athena.
Pottery production in Caltagirone continued through the ages. It included the manufacture of pottery jars used for transportation and conservation of honey, a major local commodity. The influence of Arab rule boosted the quality of the ceramics produced, especially during the 10th century.
Caltagirone was badly damaged by an earthquake in 1693 but was soon rebuilt in splendid Baroque style. However, the earthquake had put a halt to the production of decorative ceramics, which did not start again until the early 18th century, with possible influence coming from Montelupo Fiorentino. It was then that the production of floor tiles and ceramics panels for the Baroque palaces and churches began along with statuary, altarpieces, and decorative hot water bottles in various shapes.
Of the many landmarks of Caltagirone, the most notorious is the Scala di Santa Maria del Monte, a staircase built to replace a steep road that connects the center of town to the church of Santa Maria del Monte. Several reconstructions of the staircase have taken place. The first began in 1606 and counted 150 steps. It was rebuilt in 1843, with 142 steps. The present staircase construction began in 1952 and was completed in 1955 with 142 wide steps, each riser decorated with different tiles representing historical Sicilian scenes and designs.
We carry a large selection of tiles and other decorative articles and buy only from Ceramiche Alessi, which, in our judgment, offers the supreme best of the area. Giacomo Alessi and his wife, Giovanna, run the business. Giacomo is an expert in Caltagirone's history and its maioliche. He has published various articles and books on the subject. He has received numerous awards for his innovation, creativity, and promotion of his hometown of Caltagirone.